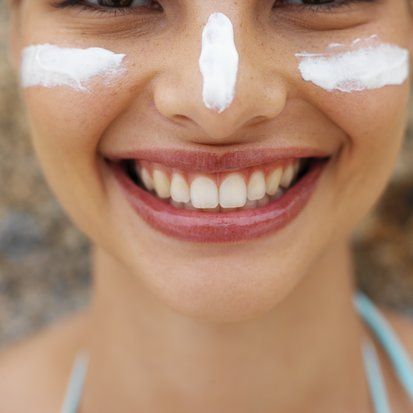 Skin
is the largest organ in our body and it is a must to take care of them especially during our younger years or we will regret it in the future. But most people that I know ignored to use sunscreen or sunblock cause they don't like the feel of having it on their skin: sticky and irritable are the common complaint when trying out to put on sunblock.
Sunscreen is thicker than a regular lotion that's why many feels sticky afterwards of putting on. But don't underestimate the benefits it will give on your skin as it protects you under the harmful rays of the sun, plus many sunblock now has an ingredients to whiten and moisturize skin which I considered a multiple purpose for the skin, perfect for acne mark and scar.
And here is interesting fact about the lights of the sun; even under the roof of our home or in any location not directly with the sun, we are still prone with the harmful effects of the sun. Clothing's are not necessarily can protect us, as it only provides 15% of protection from the sun, so it is advisable to wear sunblock or sunscreen especially in tropical countries in Asia.
What happen if you don't wear sunscreen protection?
1)
You can develop Skin cancer.
2)
You can develop Melasma or irritable blemishes right In the face
3)
Deep wrinkles and look older than similar age
4)
Spending too much on your derma and beauty products if not taken action early
How to wear sunscreen without sticky feelings?
1.
For face
, put on press powder after to lessen the dewy effect and absorb excess oil and cream in your face, you can also use any baby powder.
2.
For body
, most lotion doesn't enough SPF to protect us from the sun, I recommend that you take a pea size of sunblock and mixed it with your regular lotion, concentrate on your most expose skin like arms, legs, feet and neck.
Take note that higher in SPF of more than 35 is good but more stickier than cream with lesser SPF. Check out my review of the
product I use here!
Tweet