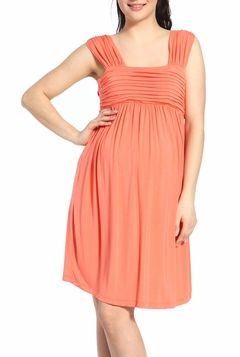 For some expectant mothers, the summer is the worst time of year. You will find yourself feeling hot and uncomfortable all of the time, even when you are just sitting around in the house. Things like going out on the boat or going to the beach, which you used to enjoy, could become things that you almost dread. However, you do not have to let pregnancy put a damper on your summer.
For one thing, having the right clothes can make all of the difference. If you are going to get
summer maternity dresses at MomoBaby.com
, look for dresses that are very loose-fitting, that can breathe. On top of that, try to find dresses that are made of thin, lightweight fabric. This makes it easier for them to fit to your changing form, and it also keeps them from being too stiflingly hot.
Another thing that you should consider is the type of shoes that you wear. In the summer, people often turn to sandals because they are easy to put on and they keep your feet cool. This can be nice, but you should remember that walking is always more difficult when you are pregnant. It puts a lot of strain on your feet. If you are just going to lounge around on the deck, the usual sandals might be fine, but you should find shoes with cushioned soles and ankle support if you think you are going to be doing any serious walking. You will be warmer, but you'll be comfortable.
Tweet