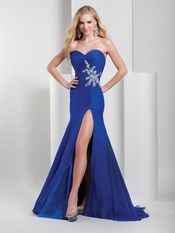 If you've never considered signing your daughter up for a pageant, now is the time to dive into the fun. Pageants tend to get a bad reputation in the press as being shallow and superficial, but there are a lot of great things that can be gleaned from competing in pageants as well. For instance, young girls learn the basics of camaraderie and sportsmanship by competing with other young ladies for the same title. Carrying and displaying oneself with poise and grace is another invaluable trait that can be acquired, and one will also become more comfortable with speaking in front of large groups of people.
Of course, if your little one wins, that's also a delight. However, it's important that your child knows that winning isn't everything, and that appearances are not the most important factor of beauty. While pageantry may not be up your alley for the long hall, there's no harm in competing in just a show or two. There are pageants constantly on the horizon across the country, so find a local venue to register for and sign up as soon as possible. When you register, you also want to make sure you have ample time to prepare so that your daughter isn't feeling nervous and unsure of herself.
One of the most important aspects of the pageant is acquiring your show stopping dress. The
sugar pageant dresses at PageantDesigns.com
come in a variety of lush colors and styles that are delightful and mystic. They'll make your daughter feel like a princess.
Tweet