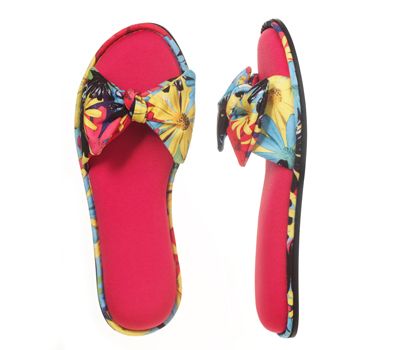 Most women who like to lounge poolside are familiar with the annoyances of wearing thong sandals: Uncomfortable plastic pieces, strap marks, and that loud thwacking sound they make when walking. Equally irritating is wearing slippers around the house during the summer, which can make your feet way too hot for comfort.
The creators of DearFoams open toe and thong slippers had these issues in mind when creating their products. These slippers are all at once cushy, comfortable, airy, and stylish. DearFoams makes their thong slippers from terry cloth material, which is the same material often used to make beach towels. These slippers absorb water and dry quickly making them a great beach or poolside accessory.
The thong slippers also come in stylish designs that include black and white stripes, colorful prints, and sequin accents. DearFoams also offers fun open-toed slippers perfect for wearing around the house. Like the thong sandals, these slippers come in various designs and colors. They are a great alternative to their close-toed cousins, especially in the warm spring and summer months. Overall, if you're looking for trendy footwear that you can also relax and have a nice time with then you'll be wise to give DearFoams terry thong sandals and opentoe house slippers a try. Your feet will thank you.
Tweet