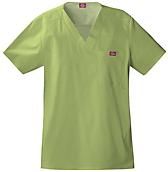 From comfortable shoes and socks to scrubs and work jackets, Dickies has been trusted by America's workforce for many years. As one of the best quality manufacturers of
nurse uniforms
, Dickies.com has a lot to offer at a stellar price.
Available in a variety of colors, these uniforms include V-neck scrub tops and drawstring pants. The stitching on these pieces is impressive – the quality is readily apparent upon close inspection. 28 colors available online means there is something for everyone, and anyone can appreciate the soft, plush fabric used.
These scrubs and uniforms are very durable and lasted a long time throughout testing with little or no signs of wear. Where cheaper uniforms started to wear through or fade in color, the Dickies scrubs stayed in almost pristine condition.
Nurses have to endure long shifts in grueling conditions, so it makes sense to opt for quality garb that will stay comfortable over a full day's work. Instead of constantly fidgeting and adjusting, medical professionals can focus on their patients and get things done more efficiently.
With a nominal price increase over generic scrubs and uniforms, these Dickies tops and bottoms are an easy purchase for today's nursing professional. Construction workers started the trend of wearing these garments, but professionals all over the world now rely on quality Dickies clothing.
Tweet