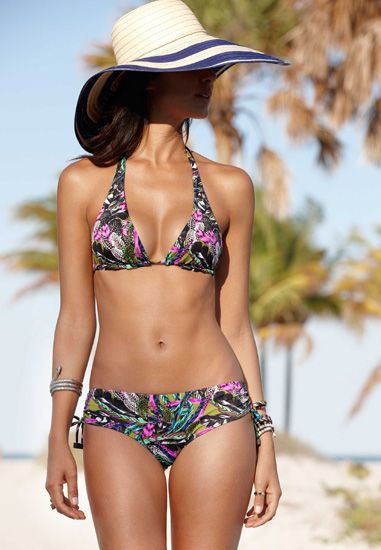 With summer finally just around the corner most of us will have our thoughts set on booking that holiday in the sun. Whether it is Spain, Greece, Hawaii or a maybe even a cruise you will of course want to check out this season's swimwear fashions for the beach or simply lounging by the pool.
What you decide on, will of course depend on your favourite styles and ultimately what flatters your figure. So whether it's a bikini, full costume, tankini or a sarong it is advisable to shop around, try on different styles and and find out what flatters you and more importantly what doesn't flatter you, before making a purchase.
If you are considering a bikini purchase you will be pleased to know it has been storming the catwalks at many of the major fashion weeks, so in terms of fashion for this year the bikini is going to be a firm favourite on the beach. Beachwear colours are also going to be wild and vibrant with a mix of patterns and fabrics giving you the ability to go crazy with colours and mix and match to your heart's content. So being extreme with your choices this year is going to be easy and will enable you to stand out from the crowd. For some fantastic looking designer swimwear click here.
However, if your budget

doesn't

stretch to designer, don't panic! the high street also have some amazing swimwear ranges to choose which mirror the high end designs but come with a more suitable price tag.
Before you buy take a look at the advice below which will help you to concentrate on the right swimwear for your type of figure.
If you have a pear shaped figure which is bottom heavy then opting for a bikini or swimsuit that focuses its attention on the top half will help to give a more balanced appearance. Therefore, try to opt for a top which has loud colours or a busy patterns in contract to plain bottoms.
If you are lucky to have a toned figure you can probably wear any style of swimwear comfortably. However, if you want to accentuate your bust line, which can be difficult in a bikini, then select a bikini with a large print to give an illusion of a fuller top.
The one best way to accentuate the length of your legs is to wear a bikini or swimsuit which has a high leg. You may think this screams of the 1990's and Flashdance! but there are so many styles available this year that sourcing this style of bikini will be a breeze.
A common issue is not feeling comfortable with your stomach when in a bikini. Swimsuits are fine as they hold you in and provide that extra support. You should however opt for bikini bottoms that are both high waisted and have a wide waistband. These are ideal for providing the same support without wearing a full costume and will flatter your figure.
Tweet