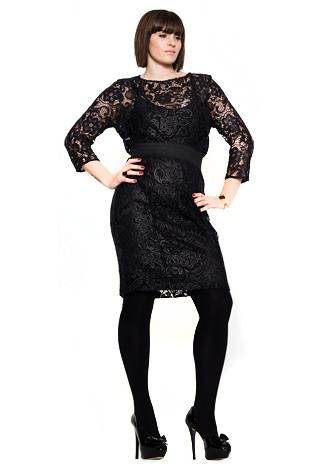 Fashion for fuller figured women can become more exciting and elegant looking with the proper choice of clothing and accessories. I know and have seen a lot of friends that are fuller figured who really stands out when fashion statement is on the line. This is because they chose to wear what is appropriate and suitable enough for them and for the event or occasion they are in.
Below are my personal recommendations of beautiful
plus size clothing for women
. The choice of items I shared below are all influenced by the latest and trendiest fashion shows I attended and witnessed, by my ever fashionable fuller figured friends and also by my own preference and taste.
Elegant dress with lace by Elena Miro
An elegant looking dress accentuated with a lovely contrasting colored lace. The classis straight skirt gives great space to move around while keeping its elegance. Elena Miro really made this dress in a lovely Italian style that complements feminine curves.
Chiffon slip by Manon Baptiste
This chiffon slip by Manon Baptiste, when partnered with the right wintery dress can surely bring out the very best fashionable, fab and chic look in you. The contrasting color this outfit has really looks adorable for almost anyone who will wear it.
Short-Sleeved Dress by Roberto Cavalli White
I love colors that are quite easy to the eye. This is the reason why I picked this one up. This Roberto Cavalli White short sleeved dress creation looks so gorgeous and fashionably trendy that is perfect for spring. The floral print this dress has is done and placed in a chic and classy looking manner. You can never go wrong with this outfit.
So far, the above three are my top recommendations, but I am still on the look out for more. If you chose to do your own searching of designer fashion for curvy women, let me know your picks and let's talk more about it.
Tweet