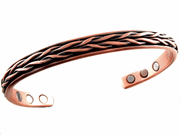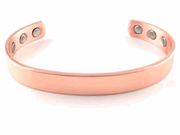 sample of copper bracelet
Have you heard this one before, a jewel that can treat your arthritis and can take away pain? After the boom of power balance, python accessories for athletes and other stuff that can make human somehow became stronger or manifest power, now here come copperbracelets that provide a stylist solution for magnetic therapy. This means that the wearer not only clad trendy accessories but also help them deal with their health and help to treat the pain that we are experiencing due to ageing, lifestyle and bad health.
The bracelets are made to be stylist and trendy so that anyone can wear them like their ordinary jewelleries both suited for men and women. The designs have a large variety of selections from minimalist design to a very fine delicate and intricate design. Magnet Jewelry store offers different sizes so that it assures one that what clients purchase may be fitted to him/her, just like mine that doesn't falls into the size of small yet medium was too big for me, which sometimes affect fashions that I want to show off.
Try one now and experience the difference while wearing one, colors are not made to tarnish because it is copper plus it can withstands fading from washing or taking a bath so you don't need to removed it at all. Order one now as they offer now free shipping worldwide.
Tweet