We've seen Gwen Stefani from the day she started in the music industry and we saw her strutting different fashions mostly funk in her teens to a Madonna's iconic fashion up to her pin up look and dramatic red lips. I say that no doubt, Gwen Stefani is the kind of singer of all time that can rock any fashions with her unique style.
Below are some of the favorite styles that she graces in the music industries:
Funky style that rock. Looking sporty chic, this style only owns Gwen where the singer rocked a glittering halter top with high-top Adidas kicks, black athletic pants and lacy red lingerie underneath of her top.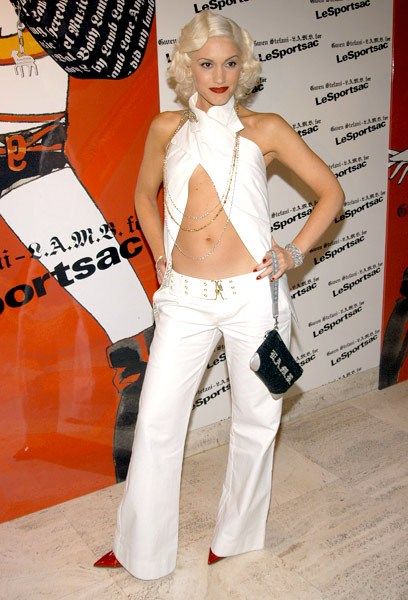 Gwen Stefani is a fan of old Hollywood curls. Showing off her abs in an upward plunging white shirt and matching pants. She always paired her style with red accents of red shoes, nail and lips, completing the whole lppk with a L.A.M.B. bag as she revealed her line's collection for LeSportsac back in 2003.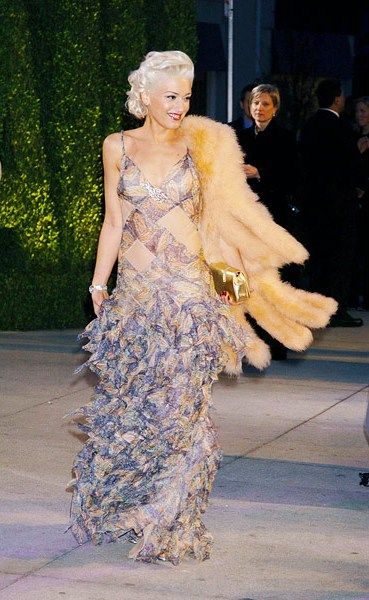 Glamorous Gwen. Gwen sported a frilly and vivacious couture Channel number to the 2004 Vanity Fair Oscar Party. Completing the whole look with fur shawl and bright gold clutch.
Vibrant Gwen.
Only Gwen can give a lovely look for vintage style shown above as she walked the red carpet at the 2004 MTV Video Music Awards. With her light blue bustier top, form-fitting red skirt and the bold red flower in her hair, Gwen perfectly mixed vibrant colors.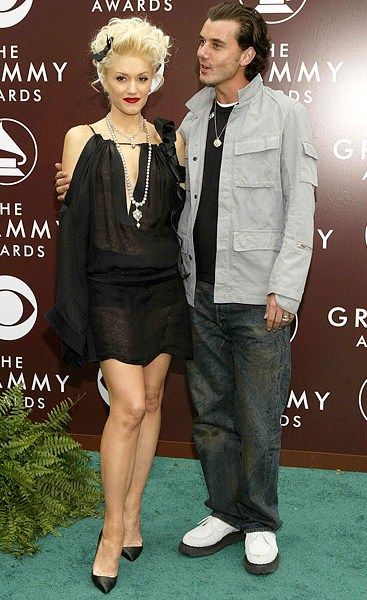 Gwen so daring. Stefani channeled the '20s look once again at the 2005 Grammy Awards, where she walked alongside with husband Gavin Rossdale in pearls and a sheer black dress that showed off her shoulders and her legs. Her hair was high, her lips were red, and her simple shoes let the Versace dress speak for itself.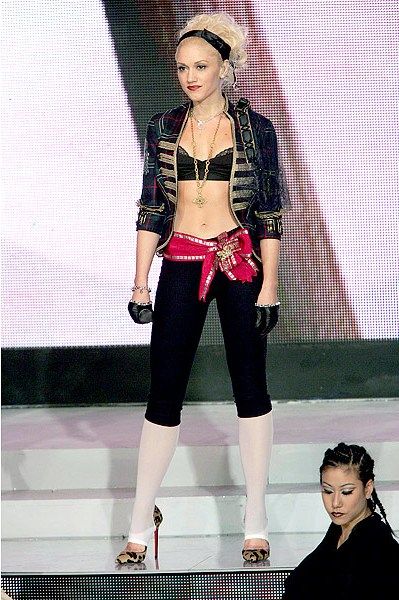 Funk chic. Gwen's style has always been edgy, but over the years, her punk style keeps on evolving. At the 2005 Festival of the Song of Saint Remo, Gwen strut the stage in an open military jacket, small black gloves, and black-and-white blocked tights with a big red bow belt giving her a feminine touch. Her animal print heels and pulled-back hair style wrapped up the sporty-but-sexy look.
Gwen kept it casual but still sexy.
Slipping in a baggy white shorts, a sleeveless printed T-shirt, gold bikini top and bandana headband at the 2005 Teen Choice Awards making her look so young and fresh.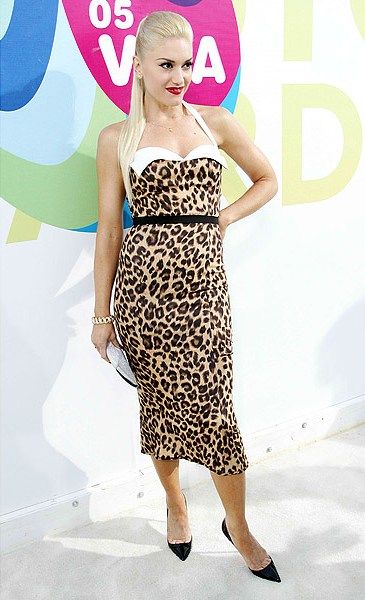 So sexy with animal prints. Looking so gorgeous and sexy with her clean look , Gwen once again proved that she can have any style she want and stunned many in this figure-hugging leopard dress at the 2005 MTV Video Music Awards.
Tweet