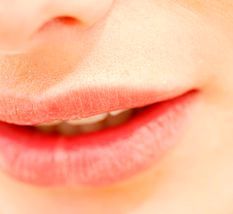 Healthy lips can accentuate the whole face of a woman, especially if it is lighter in color which compliments one to be younger than her actual age. Though expert says that lip color is considered a genetic inherited, there are some factors that contribute to the lip pigmentation. Two of the main culprit is the excessive consumed of nicotine and caffeine.
Tips to lighten our lips:
Exfoliate our lips with the back of a toothbrush the one with a rubber corrugated that used to scrape the surface of the tongue. This can help remove the dead cells on the lips. Put a petroleum jelly to moisturize the lips which also serves as natural lip-gloss.
Slice some cucumber and place it over your lips. Leave on for 20 to 30 minutes, depending on how you can endure it, anyway there's no bad side effect from cucumber, it is a natural toner and helps regenerate skin cells.
Mix 1 tsp. lemon juice or calamanci juice and glycerin in a small container. Apply every day until the mixture has consumed. This will help whiten the lips gradually.
Use only lip-gloss that has a sunscreen protection.
Avoid consuming too much caffeine and minimize smoking which greatly affects lip color.
Try to scout some lip balm lightener like Godiva Licowhite Lip Gloss Stick with Vit C SPF 15. But I may disappoint you because this product is available only in the Philippines; it has a fruity orange flavored lightening lip gloss in a twist tube format.

The stick has a Licorice known to helps lighten dark lips and has Vitamin C which gives an added lightening benefit to help improve discoloration, and an SPF 15 to helps prevent from the sun exposure and darkening of lips.
Darker lips may be a sign that we have a bad health and requires our attention. And unless we never change our bad lifestyle habit, we can never achieve lighter lips.
Tweet