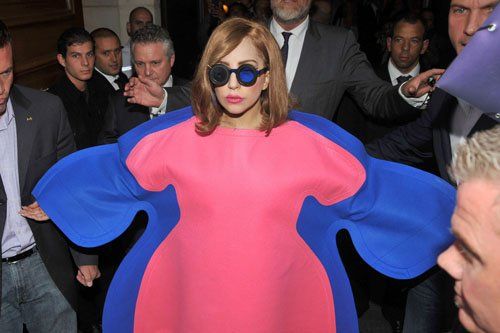 Lady Gaga slipped on a pink and blue dress
You know Gaga, making sure that everywhere she goes will get our attention. Lady Gaga was spotted leaving the Park Hyatt Hotel in Paris last Saturday in an awkward dress.
Mother Monster was sported another bizarre fashion of her choice, wearing a large structured pink-and-blue dress, paired with a lace up platform boots and crazy designed sunglasses.
While recently gaining weight of 25 pounds it's no surprise that Lady Gaga will change all her outfit to fit her new body and to somehow hid the excess baggage in her figure.
Lady Gaga gained weight over the summer and it's all because of her love to Italian foods and her Father's new restaurant. She thanks her fans for embracing her no matter what twitting: "And thanks to my fans, who love me no matter what, and know the meaning of real beauty & compassion. I really love you."
Enjoy the pictures of Lady Gaga wearing pink and blue bizarre outfit:
Tweet