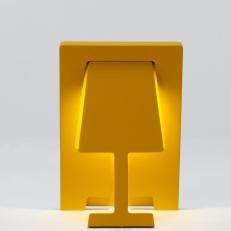 Product can be found here
Finnish designer Antti Tapani Suhanko has created a unique and innovative design for a lamp. A design that is a highly interesting concept as well as an aesthetically pleasing addition to a home. Playing with the traditional design for a lamp, this is a design never before seen. The shape of a lamp folds out from a rectangular piece of medium density fibreboard to create a silhouette of a lampshade. Located behind the silhouette of the lamp the bulb is located.
This is an interesting piece of art, as well as a functional lamp. The idea that a lamp has to be a stand-alone piece of 3D work has been flipped upside down, with this piece of design focusing on the 2D shape of the lamp and how it can be used to create an innovative design piece. This lamp is not overstated and would therefore work in harmony with the rest of the furnishings in a room to create a stylish atmosphere.
This lamp can be located on
Fashion For Home's
website. A company that specialises in pushing the boundaries of design, mixing minimalist themes with a graceful style, as well as using sustainable, green, environmentally friendly materials. It is highly affordable and offers a room style and grace in design as well as function and the ability to light up a big space. The amount of light that is given out can be changed by simply closing or opening the light silhouette. This enables you to create whatever atmosphere you like, without having to install a pesky dimmer switch.
The lamp comes in a variety of colours to suit the colour scheme of your room and would be a stylish addition to any home. Let your friends be amazed by your sense of understated style, your ability to push a modern look whilst still retaining an idea of Sixties Warhol chic.
Tweet