Image Source: twitter.com
19 year old Miley Cyrus have tweeted a pic with her mom Tish in a girl's shopping in LA area while taking a break from their shopping. Though its so cute and awesome to see her bonding moment with her mom not until you see the next picture, whom someone take an advantage to take the shot at her side when her loose top or let's say she had a wardrobe malfunctions.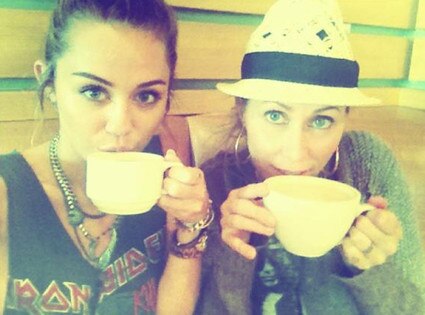 Image Source: twitter.com
Image Source: twitter.com
Apparently while checking some dress for her purchase and raise her arm, her side have shown the sides of her boobs on her loosely iron maiden tank top. Miley Cyrus forgot to wear her bra and that quite a feast for a paparazzi photographer like this one.
Oh Miley you should have known better that you are famous and everyone has their own camera with themselves, and an opportunity like this will never a missed for anyone to take a shot. This might be a lesson for you to wear a brassiere when going out even in an extra ordinary days like this. Now go ahead and take a shop for more brassiere.
Tweet