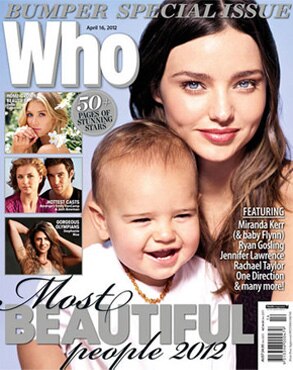 Image Source: eonline.com
So far the very cute ever of cover magazine I have seen this year. Miranda Kerr and her baby named Flynn graces the cover of Australian Magazine "Who", although you may ignore Miranda on the cover because her cute little boy has steal the scene of the cover. (See how cute that baby Flynn's smile).
Model mama Miranda Kerr and baby Flynn clearly is the answer with the Annual Most Beautiful People for the magazine issue with Kerr opening up her motherhood to Flynn. Miranda admit that she slow down in working to give priorities to her 15th month old baby.
Below are WHO's Most Beautiful People 2012:
Matt Target
Matt Target, with that body how can you say he doesn't deserve to be one of the most beautiful people, hot isn't it!
Stephanie Rice
Stephanie Rice, a swimmer with appealing star, one of the beautiful face and body. Even if her name includes rice, you may think that this girl never eat a rice or does she?
Manu Feildel
Manu Feildel is a celebrity chef woos with french charm. Mostly ladies will be after this guy, agree?
Kyly Boldy
Kyly Boldy, a stunning fab model stealing the limelight from cricketer beau Michael Clarke.
Delta Goodrem
Delta Goodrem, although I find it awkward her pose here Delta make it to be Most Beautiful people, she will soon released a single and watch out her in "The Voice" for the coaching role.
Source: All images are from WHO Magazine.
Tweet