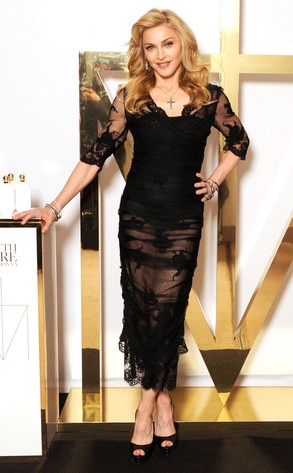 Image Source: eonline.com
Madonna have launched her new signature fragrance "Truth or Dare" at Macy's Herald Square in New York City. But what different this time is that Madge have dress with almost perfect yet not in a
sheer dress
of Dolce & Gabbana outfit, the half top was quite fine but the half below was way not appropriate to dress for a 57 years old woman. If only a little cover up of mini skirt and I can say that the dress will be the best dressed she ever did on her entire career.
Along with her fab black peep-toe heels and her loosely wave blond hair that was perfectly suited for her and known to be her signature look but dismay on that half see trough lacy gown, over-all a half okay for this look. Oh well
Madonna
is still Madonna, but great that she had a great body with that age, as we all seen her super young and super toned in a Superbowl performance that makes the world go wow for it.
Tweet